The former waste management mode in Istrian County
Waste management in Istrian County traditionally included waste collection, transportation, and disposal of municipal waste and non-hazardous production waste with low level or by not applying a separate collection of reusable parts of waste and hazardous waste or waste recovery. 
Seven (7) public municipal companies that manage existing landfills used to carry out waste management activities. Organized collection of municipal waste in Istrian County covers over 90%.
There are seven (7) official landfills for the disposal of municipal and non-hazardous production waste on the County's territory. These landfills are Donji Picudo (Umag), Košambra (Poreč), Lokva Vidoto (Rovinj), Kaštijun, (Pula), Cere (Labin), Jelenčići (Pazin), Griža (Buzet).  
About 120.000 tons of waste have been landfilled annually on seven landfills extending over a total area of 36,8 ha. Some 80% of that waste was a municipal waste, and about 20% was non-hazardous production waste. Other industrial non-hazardous and hazardous waste was disposed of by authorized waste collectors and would then get transported to authorized waste treatment entities on the territory of Istrian County and Croatia, or would it get exported under international regulations.
Integrated waste management system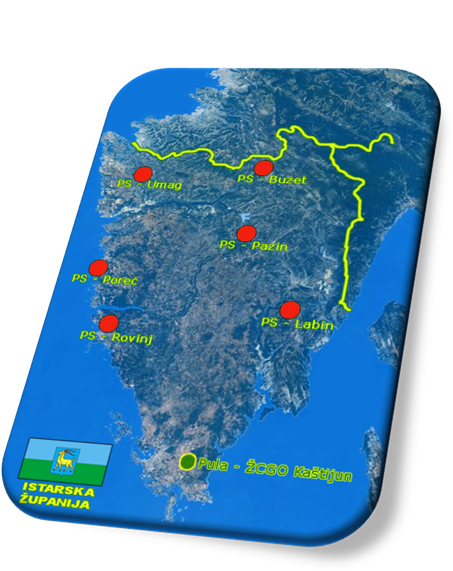 By adopting the Waste Management Plan of the Republic of Croatia for the period 2017-2022, conditions have been created to continue with the construction at CWMC "KAŠTIJUN" and other infrastructure for Istrian County's integrated waste management system.
Building infrastructure for comprehensive and sustainable waste management in Istrian County enabled service to all of its inhabitants. Collection and adequate treatment and disposal of the waste remaining after separating useful raw materials have been handled efficiently.   
During the project's implementation, CWMC Kaštijun six (6) transfer stations have been built in Istrian County (Labin, Pazin, Buzet, Umag, Poreč, and Rovinj). They were planned and positioned across County according to quantities of waste criteria and enabled for rational transportation of waste from transfer stations to the waste management center under the framework of project activities. In addition to building CWMC "KAŠTIJUN", seven trailers and 20 special semi-trailers, as well as other equipment and machines, have been procured.       Encouraged by the implementation of this project, some units of regional government and self-government (U.R.S.) have initiated the construction of local infrastructure for sustainable waste management (recycling yards, sorting facilities, eco islands). With CWMC approaching its completion, all Units of local self-government are intensifying these activities.